We Repair All Makes & Models

100% Parts And Labor Warranty

Same Day Appointments & Repair Services

Free Vehicle Pick-Up & Drop-Off

ASE Certified Master Mechanics
Transmission Repair

We Repair All Makes & Models

100% Parts And Labor Warranty

Same Day Appointments & Repair Services

Free Vehicle Pick-Up & Drop-Off
Boca Raton
(561) 468-5478
Royal Palm Beach
(561) 678-0528
Wellington
(561) 257-5932
If you own a car and like to be in control of your drive, you will know that nothing is more crucial than your control over the transmission. A lousy transmission cannot only make your driving experience terrible, but it can also slowly deteriorate your car's health, requiring you to get major repairs or replacements.
To make sure that you are always in control when you drive and your car's health is never at risk, Bill Tyson Auto Repair provides professional transmission repair services in Florida. We have our transmission repair facility available in the most prime locations of Florida, including Boca Raton, Royal Palm Beach, and Wellington.
What Do We Cover:
Bill Tyson Auto Repair covers all transmission types, whether you go for its Boca Raton transmission repair services, Royal Palm Beach transmission repair services, or Wellington transmission repair services.
All of the diagnostics and repair and replacement procedures are only performed by our ASE-certified technicians. We back our services with our warranty so that you can get Boca Raton transmission repair services with confidence.
Moreover, we offer equally reliably Wellington transmission repair services for all transmission types, including:
Automatic Transmission
Manual Transmission
Continuously Variable
Transmission
Automated Manual
Transmission
When To Get Transmission Repair Services:
As per the expert ASE technicians, One should always be cautious about getting timely Royal Palm Beach transmission repair services. They recommend that you get regular maintenance check-ups of your car so that your mechanic can timely diagnose and fix any problems with your transmission.
But generally, here are some signs that are an absolute warning that it is time for you to get transmission repair services in Florida as soon as possible.
Burning or Unpleasant Smell
Stiff or Slippery Gears
Grinding, Shaking or Vibrations especially when you shift gears
Humming or knocking noises
Transmission Fluid Leaks
Sudden Jerks
Gear Disengagements
Uneasy Idle
Delayed Response and Lagging
Dashboard Warnings and Engine Lights
Diagnostics and Repair:
At Bill Tyson Auto Repair, our technicians take full responsibility for diagnosing and fixing any problems that your car might have. We have a comprehensive process to make sure that you drive out of our garage with new-like care.
Our diagnostics include:
Computerized Diagnostics
Transmission Fluid Evaluation
Transmission Fluid Leaks Inspection
External Leaks Check
Clutch Inspections for Manual Transmissions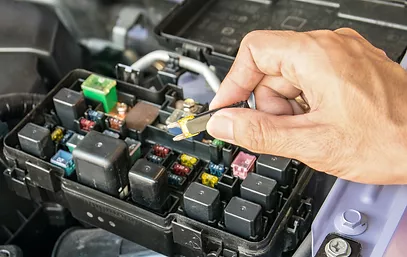 After our technicians find the faults or parts that require any fixing, maintenance, repairing, or maintenance, they perform the procedures necessary to ensure that your transmission works perfectly.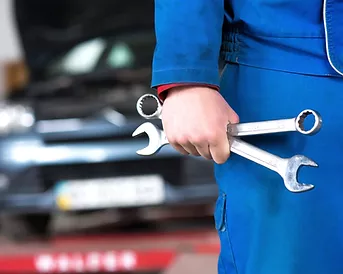 Some steps of our repair services include:
Transmission Fluid
Replacement
Transmission Filter
Replacement
Replacement of Any Worn
Out Parts
Transmission Flush
All the transmission repair services performed at Bill Tyson Auto Repair Facility are done as per the guidelines of the concerned vehicle manufacturer. We only use the best quality and your vehicle-compliant transmission fluid and filters.