For All Vehicle Manufacturers

Computerized Tire Alignments

Free Vehicle Pick-Up & Drop-Off
Buy New Tires and Tire Alignment Services

For All Vehicle Manufacturers

Computerized Tire Alignments

Free Vehicle Pick-Up & Drop-Off
Boca Raton
(561) 672-1281
Royal Palm Beach
(561) 753-6122
Wellington
(561) 753-6101
The part of your car that comes the most in contact with the external environment is its tires, and hence are prone to the most wear and tear, requiring regular tire replacement in Florida.The environment that the tire meets is a road, which is harsh and can damage the surface of your tire over time. Moreover, you can also face issues with wheel alignment, angle problems, and traction issues.
Bill Tyson Auto Repair provides a one-stop solution to all issues related to tires. We have our facilities available in three of the most prime locations of Florida, including Boca Raton, Royal Palm Beach, and Wellington.
What Is At Risk?
If your car tires are worn out, you are probably putting more at risk than you think by delaying Wellington tire replacement services. Tires have a significant role in determining the safety and quality of your drive, and here is what it can affect:
Car's Handling
Brake Efficiency
Smooth Drive
Car's Stability
Car's Road Grip
It cannot only ruin your driving experience, but it can also risk your life by making your car more prone to skid and slip, especially in Florida's rainfall when the roads are slippery.
If you are delaying Royal Palm Beach tire replacement, you are also making yourself more likely to get embarrassed as worn-out tires have high chances of getting punctured and going flat while you are rushing to reach somewhere.
To ensure the quality of your driving experience, make your life safe, and avoid embarrassing situations, head to Bill Tyson Auto Repair Centre for Boca Raton tire replacement.
How Can We Help?
At a Bill Tyson Auto Repair Center, we have experts who can take care of all tire-related issues after a thorough inspection to find the root cause. Our experts will diagnose your car and make appropriate suggestions regarding repairing or replacing them. We have suitable tires available for all models of all brands, and we offer a warranty for every part we replace during Wellington tire replacement so that you can shop with us with confidence.
After determining the problem, we can provide effective solutions that can include:
Removal and Disposal of Old Tires
Mounting new tires
High-Speed Balancing
Vehicle Suspension Alignment
Mileage Warranty
Tire Rotation (when necessary)
Complete Royal Palm Beach tire replacement (if required)
Maintaining a good set of tires and or getting new ones has its benefits.
Driving Safety
Increased Performance
Better Gas Mileage
Improved Traction
A Better Driving Experience
Why Choose Us For Tires?
Free pick-up and drop-off of your vehicle
100% parts and labor warranty
Same day tire repairs or replacement
ASE certified tire experts
Major brand name tires
Computerized wheel balancing and alignment
All makes and all models.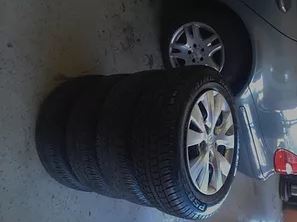 Where the rubber meets the road.
One of the most important operational and safety concerns for vehicle performance are the tires. Often overlooked are the maintenance and the condition of tires that effect the performance and handling of your vehicle. Bill Tyson's Auto Repair offers full service and new tire replacement. We offer all major brands as well as economically priced tires. We are just as competitive as the large tire stores with styles specifically suited for your make, model of your vehicle, the intended use, and your budget, if necessary.