We Repair All Makes & Models

100% Parts And Labor Warranty

Same Day Appointments & Repair Services

Free Vehicle Pick-Up & Drop-Off

ASE Certified Master Mechanics
Brake Repair and Replacement Services

We Repair All Makes & Models

100% Parts And Labor Warranty

Same Day Appointments & Repair Services

Free Vehicle Pick-Up & Drop-Off
Boca Raton
(561) 468-5478
Royal Palm Beach
(561) 678-0528
Wellington
(561) 257-5932
Your brakes are an essential component of your car. You should have your brakes inspected annually and consider us for brake repair services in Florida to ensure the safety of you and your passengers. At Bill Tyson Auto Repair Centre, we have ASE-certified brakes experts who are well-versed with effective diagnostics and repair of brake systems, regardless of their make and model.
Our services are readily available in three of the most prime locations of Florida, including Boca Rotan, Royal Palm Beach, and Wellington. We provide diagnostic and repair services for all kinds of brakes, including disc, drum, rear, front, or ABS.
Brake Components
Do you hear scraping or scratching noises, or does your steering wheel or foot pedal vibrate when you apply your brakes? These symptoms could be a sign of significant brake damage, and it's now time to seek a professional Royal
Palm Beach brake repair service; Some of the brake components that need to be inspected include:
Brake Pedals
Brake Master Cylinder
Brake Lines
Rotors or Drums
Wheel Cylinders
Brake Pads
Brake Fluid
All these components come together to make your brake work properly. If any of these components are faulty, you will immediately require Boca Rotan brake repair services to avoid any mishap.
​At Bill Tyson Auto Repair, our technicians are experts in working all of these components and handling all issues related to them so that you can have a safe drive.
Common Brake Issues:
Mostly, the brakes do get faulty immediately and have a wear and tear period. They show obvious signs that you immediately require Wellington brake repair services from some ASE-certified professional like those working with us.
​The most common symptoms of brake problem are as follows:
Car Vibrations and Wobbles
Loose Brake Pedal
Brake Fluid Leakage
Unpleasant Odor
One-Sided Pull When Applying Brakes
Pulsating brakes or steering shakes
Grinding on stopping
Unusual noises like squeaks, clicks, or scrapes on brake application
If you notice any of such symptoms with your car brake system, we recommend that you immediately stop driving it and consider getting a Royal Palm Beach brake repair service from us right away.
Our Brake Diagnostic Services
Before we move on to perform Boca Rotan brake repair services on your car, we must conduct a detailed diagnostic to find the root cause of the problem. As it is a matter of your safety so can't be sure enough until we perform:
Brake operation – measure pad thickness and function
Fluids – inspect fluid levels and look for leaks
Rotors/drums – resurface or replace if needed
Wheel cylinders – check wheel cylinders for operation
Brake hardware – inspect for wear and tear
Brake hoses – inspect for wear and potential issues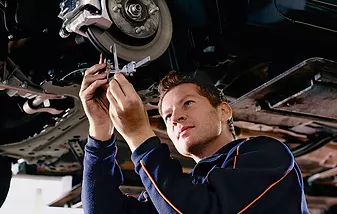 Our Brake Repair Services
Our tune up services covers up the following: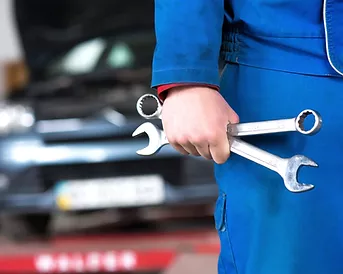 After detailed diagnostic, we start without Wellington brake repair services, which typically can include one or more of these procedures:
Pads replacement
Caliper replacement
Master cylinder replacement
Rotors/drums resurfaced
Fluid flush & replacement
Caliper & Rotor re-alignment
Hose replacement
Bill Tyson Auto Repair only uses genuine and authentic parts for replacement, and only our experts are allowed to perform any procedure on your vehicle, which is why we offer a complete warranty of any parts and labor work that you get from us during our brake repair services in Florida.
We pull out all the stops.
One of the most important operational systems in your vehicle are your brakes. At Bill Tyson's Auto Repair our ASE Certified brake technicians use only the best equipment parts and fluids specifically designed for use in your new model Range Rover or your classic 1958 Corvette.