Bill Tyson's Auto Repair is a full-service auto repair and car maintenance service in Florida. We offer a one-stop solution for all your car problems, maintenance, and upgrades. Our state-of-the-art facilities use the latest technology and modern methods to provide Florida auto repair and car maintenance service.
What Sets Us Apart?
Free Vehicle Pickup And Drop Off Service For All Scheduled Service, Maintenance, And Repairs. (Seriously, Just Ask)
The Best Auto Repair Warranty – 100% Parts And Labor (In Writing)
Same Day Repairs For Most Repairs
ASE Certified Mechanics – All Makes. All Models. Foreign And Domestic.
Over 2,000 Positive Online Reviews
Our Experience
Bill Tyson Auto Repair has been in business since 1997. We have served thousands of Palm Beach County customers during our years of service and have enabled them to drive away with comfort and confidence.
Our strict standards of services and commitment to quality auto repair and car maintenance service in Florida have earned us a stellar reputation and over 2,000 positive online reviews.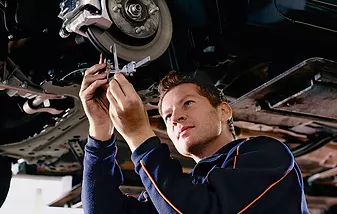 Every member of our team is an ASE-certified technician, qualified to handle all makes and models of vehicles and experienced enough to develop innovative solutions to the most challenging car problems. One distinct quality of our auto repair and car maintenance service is that we have invested in our team more than anything else. We have made sure that we have plenty of staff to cater to each customer on a priority basis, with full attention and dedication to the minor details.
We have also tried to ensure that no one is overworked at Bill Tyson Auto Repair Center. It is essential to us that our staff remains not only physically but mentally healthy and happy. Lastly, as most of our staff has been with us since we first established our facility, we have polished their talents and strengths. As a result, you will get your car serviced by a master in his specific job and not a jack of all trades
To cater to the demand and convenience of our customers, Bill Tyson Auto Repair Centre has made its availability for South Florida by expanding its presence to three of the most prime locations. We are currently located in Boca Raton, Royal Palm Beach, and Wellington, with a plan to expand further as we are getting customers from all around Florida.
You can find the same quality auto repair and car maintenance service at all three of our locations, supervised by our seasoned management team. We have ensured that we maintain the same level of service in all our facilities throughout Palm Beach County, FL.