We Repair All Makes & Models

100% Parts And Labor Warranty

Same Day Appointments & Repair Services

Free Vehicle Pick-Up & Drop-Off

ASE Certified Master Mechanics
Front End Repair and Suspension Services

We Repair All Makes & Models

100% Parts And Labor Warranty

Same Day Appointments & Repair Services

Free Vehicle Pick-Up & Drop-Off
Boca Raton
(561) 468-5478
Royal Palm Beach
(561) 678-0528
Wellington
(561) 257-5932
Bill Tyson's Auto Repair will service and repair all suspension components and operational systems to assure that your vehicle is functioning just as it came off of the assembly line. Any loss of the suspension's operation could be dangerous causing extensive damage to your vehicle and more importantly be fatal to you, your passengers or others.
Our ASE Certified technicians are trained to inspect and service today's modern complex suspensions as well as vintage, classic car, simple suspension systems.
Some of the components that we service and repair.
Shock absorbers and struts
Steering systems
Springs
Wheels and tires
Linkages
Electric power steering
Bushings, bearings, and joints
Hydraulic power steering
Vehicle Suspension Alignment
Vehicles that we specialize in front end and alignment service and repair.
Mercedes | BMW | Land Rover | Range Rover | Jaguar | Audi | GM | Chevrolet | Chevy | Buick | Pontiac | Dodge | Chrysler | Tesla | Volt | Toyota | Honda | Nissan
Fraquently Asked Questions
Ball Joints
Alignments
Shocks & Struts
It's usually recommended to replace them in pairs, both front struts or both rear shocks because a new shock absorber will absorb road bumps better than the old one, but it's not required. If you replace only one shock absorber, it may create an "unevenness" from side to side when driving over bumps. However, if your car is a newer model replacing only one strut or shock absorber may be enough since the opposite side is most likely still good.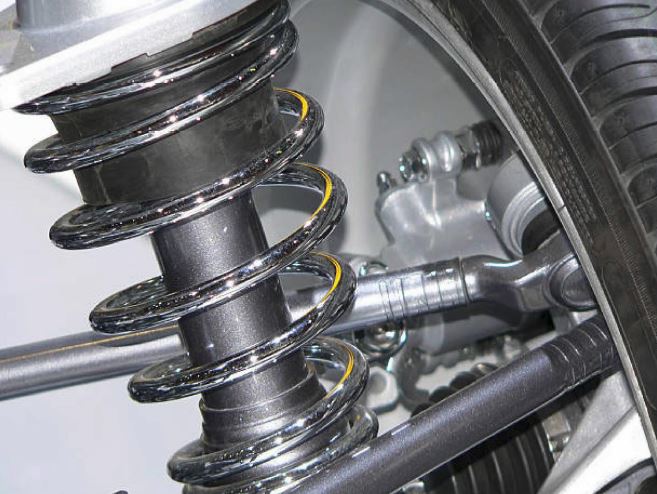 It is only necessary if they are all bad. If your truck or SUV has four old shock absorbers and you want your vehicle to have a bit smoother ride, why not replace them all the same time since they are not very expensive to replace.
Not typically, but in some vehicles, sway bar links are connected to the struts and a sway bar link must be removed to replace the strut. The nut that holds the sway bar link sometimes seizes up, making it almost impossible to remove without damaging the link. In these rare cases, replacing the sway bar link will be required and fortunately they are not very expensive.​Replacing struts involves removing coil springs that are under high tension and is very dangerous to be done at home as a DIY project. It's best to trust this job to Bill Tyson Auto Repair because we have special spring compressor tools that can safely assemble or disassemble a loaded strut. Replacing shock absorbers is less expensiveand in most vehicles a wheel alignment is not necessary when the shock absorber is replaced. At Bill Tyson Auto Repair we can use original manufacturer parts or save you money with deep discounts using top quality aftermarket parts. Either way they're backed with the best warranties in the business.​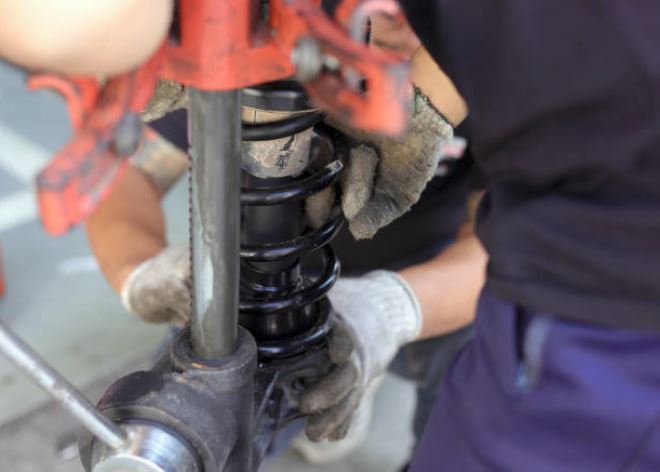 Tie Rod Ends
Wheel Balancing
Your wheels are the connection between your vehicle's chassis and the road surface. When your wheels are out-of-balance your connection to the road surface is compromised. Driving with out-of-balance wheels, on the various road conditions, can compound the effects that bumps, road irregularities and other hazards already are causing to your vehicle's suspension. A well-balanced set of wheels will minimize any additional wear and tear that normal road usage causes.
Whenever you are getting new tires it is a normal service to have the wheels balanced at that time. Some other possible reasons you may need to get them balanced are:
Vibration in the steering wheel, the floorboard or your seat
During recommended tire rotation service
Every two years with normal driving or yearly with rough road driving
After getting a flat or tire repair
Uneven tire wear
Tire rim balancing weight falls off
Both are a regular part of vehicle suspension maintenance, but wheel balancing isn't the same as getting a wheel alignment. A wheel alignment corrects the angles of the tires so they travel in the same direction and make contact with the road properly. Alignment reduces uneven tire wear and extends the life of your tires. Having a wheel balanced fixes any balancing irregularities that the tire on the rim may have when spinning at high speeds. Weights are added to the rims to counteract any imbalances.